Posts Tagged 'JoD'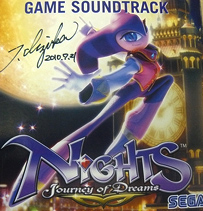 Every Friday SEGA Europe and SEGA America host a big prize giveaway on Twitter. You can win all sorts of assorted gaming merch, games and very rare collectable things. THINGS! I know you all can't get enough of things.
So anyhoo, today a nice bit of NiGHTS Journey of Dreams merch has gone up for grabs. A signed CD music sampler from JoD. These CD's were made in a very limited quantity for SEGA Europe as a promotional item, so to own one of these SIGNED by TAKASHI IIZUKA is something you should be interested in

It's been signed this year too ( so you also get the amusing knowledge that (probably AAUK) hounds the guy to specificaly sign NiGHTS merch for us XD ). Iizuka-san you can never escape the NiGHTS fans! lol

If you'd like to be in with a chance to win this, along with some other spectacular prizes like Amigo ASR concept art prints, just go to Twitter.com and follow the official @SEGA account and wait for further instructions. Remember that you have to be following them and they have to be following you in return. Direct messages only when taking part as regular replies don't count.
Best of luck!