Posts Tagged 'fan'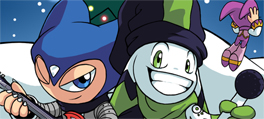 Last year, Level 99 and myself brought you the Winter Dreamers EP, a small selection of NiGHTSy related songs to play during your Holiday season. It was nicely received by the community and it got such a good level of feedback that Levs did mention that come next year we could probably do a follow up EP to Winter Dreamers. Well it is now 'next year' and i have good and bad news for you, my funky friends.
The bad news is we do not have the sequel to the Winter Dreamers EP for you this year.
The good news is Level 99 recognized his promise to you last year and most certainly did not want to leave you all empty handed, so he went back and remastered the songs from the EP. Now your favourite tunes from the EP have had their quality level ramped up so it sounds even more crystal clear than it did the first time around. All the more fresh for the winter season, i'd say.
Furthermore, Level 99 has also officially included instrumental versions of Hey Dreamer and Hey Dreamer (Can't Dance Sleeping Mix) in the download pack so now you can karaoke your little festive hearts out!

Truth being told, neither of us did forget about our idea to make the sequel for you all. The problem currently lies in the realm of having time to make a sequel. Level 99 is currently overseeing the finishing touches to the OverClocked Remix album NiGHTS: Lucid Dreaming which releases mid next year, as well as numerous other music related projects with various other people from the OCR community. I can't say i've been as busy as Levs in terms of projects but i couldn't do a sequel without him, he is the guy who does the real technical work after all. And besides, i wouldn't want to make an EP alone anyway, it just wouldn't feel right seeing as we brought you the first one as a SEGA super team-up collabo~
For the download files as well as previews of the remastered Winter Dreamers EP, click this link here.
Chances are that this will be the last update before 2011 so from Level 99 and myself, as well as all the Staff here at the site, we wish you a very Happy Holidays and hope you enjoy the New Year to come.
~
DiGi Valentine