Posts Tagged 'In MY dreams'

Spark up your Ideya dreamers – It's epic competition time here at NiGHTSintodreams.Com with amazing prizes of brand new official merch from SEGA!
With tons of prize packs up for grabs everyone has a good chance of winning something really special in time to celebrate the HD release of NiGHTS into dreams… this October.
After our successful fan campaign supporting a rerelease of the original game and NiGHTS hitting the track for Sonic & All-Stars Racing Transformed, it's time for even more fan love from the company.
What can you win in this competition?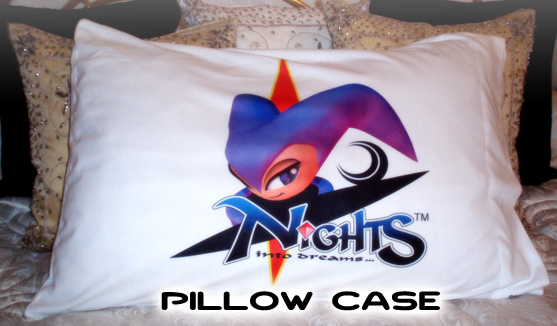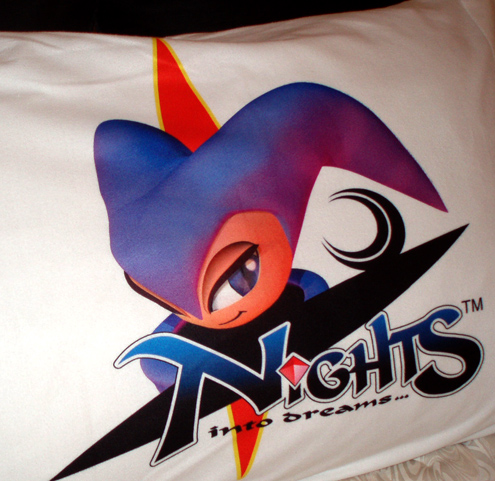 The main prize up for grabs are these wonderful official NiGHTS pillow cases created for this competition and promo use. You can't buy these anywhere! This is the variant version of the black pillow case that SEGA held a competition for recently. The new white case features one of my favorite bits of artwork taken from the Japanese Saturn game's cover. It was also used a lot for our NiD15 campaign, so this one should mean a lot to you community guys out there especially. It fits a regular bed sized pillow and is made from a super soft fleece fabric.
But that's not all!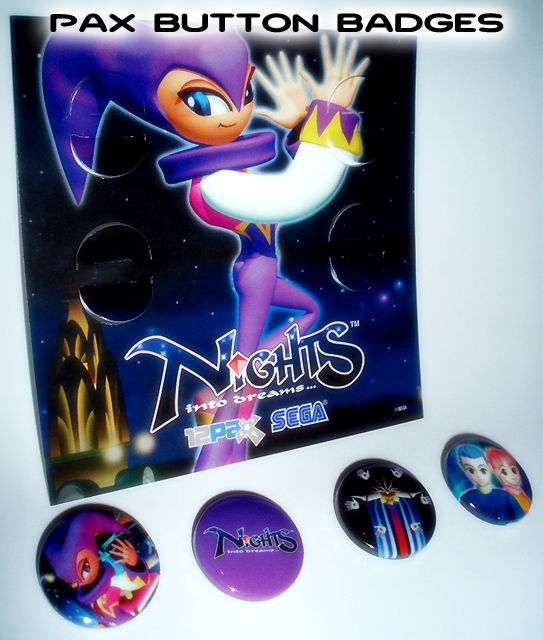 These lovely badges were created as promotional items for the recent PAX event in America. Seriously limited edition each set of 4 come in a little sealed baggie with a pretty backing card featuring NiGHTS. Each badge set includes NiGHTS, The game logo, Wizeman, Claris and Elliot.
We have lots of these to give away as prizes, so the top 20 winners will each receive a pillow case AND a set of 4 badges.
30 runners up will receive a set of 4 badges each.


We want you all to get creative with this one. Dreams are an amazing source of magic and inspiration, we all dream, even if we don't remember it – dreams are something we all have in common. For this competition I want to see you design yourself a dream persona. An alter ego. Over the years many of us have encountered our own personal dream creatures and personalities when we slept at night. NiGHTS into dreams… encouraged self interpretation and exploration of real dreams. So what would you look like when you dream? Draw a picture of your dream self, your alter ego in the world of Nightopia. Designs can take influence from Nightmarens, Nightopians and Dreamers. A wild reflection of yourself within the world of dreams.
This competition will be judged on imaginative and inventive designs – not artistic skill. If you want to you can also write a short paragraph about your creation to accompany your entry.
If you'd like some reference materials or inspiration for design you can check out our official character art archive [ here ].

* Entries can be digital or traditional. Traditional artwork can be sent to us by scanning it or taking a photograph if you don't own a scanner.
* Your image can be either full color or black and white.
* Any character description to accompany your design must be included in the same email entry you send us.
So when you've got your entry good and ready email it to us at [nidsubz@googlemail.com]


- The design concept must be done by you. It must not be a direct copy of someone elses fan character.
- Do not trace another artists work to create your own.
- ONE ENTRY PER PERSON.
- Entries are welcome from anywhere in the world

I'll post prizes anywhere there is a NiGHTS fan!
- Nothing offensive please. Questionable entries will be rejected outright.
- By entering this competition you are agreeing to provide me with your name and an address to mail a prize to if you win. This information will be deleted straight after I've used it for the sole purpose of mailing prizes.
- If no response is received from a winner after 2 weeks their prize will be given to another suitable entrant.
- Winners will be notified by email after the closing date. The winning entries will be up for display on this website afterwards. Prizes will be sent out as soon as possible.
- Prizes are as stated. No cash equivalent or replacements are available for items lost in the post.

The closing date for this competition is the 5th of October 12pm GMT. No entries will be accepted after this date.
Winners will be announced on the 6th of October via this website.

Tags:
badges
,
buttons
,
community
,
competition
,
design
,
fans
,
HD port
,
In MY dreams
,
PAX
,
pillowcase
,
SEGA
,
win NiGHTS merch