Posts Tagged 'dragon'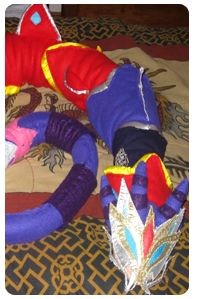 We've got a few nice little additions to the site today in the shape of 3 new wallpapers, 1 new craft and 2 new handmade plushies. Quite possibly the most hard2thecore plushie I've seen yet, Alkerone only went and recreated Dragon persona NiGHTS from fabric and it's massive!
I've been seeing more and more NiGHTS related plushies and dolls pop up on D.A lately so be sure to submit them in our forums if you'd like to see them on this website

Remember that the plush section is for handmades only, official collection toys will be in our Merch section later on. I'd love to see more fan-made plushies of all the boss Maren… Bella anyone?