(Official U.S NiD) In the world of Nightopia where our dreams are played out, an evil being is gaining tremendous power. He is Wizeman the Wicked, and through his creations the Nightmaren, he captures precious dream energy from humans. If he is not stopped, he will rise from the subconscious and enter our world. No power on earth will be able to stop him.
(Official JP NiD) The ruler of Nightmare-Wizeman, a Visitor deprived of any Ideya, had begun advancing to try and extinguish Nightopia! "If all Ideya are lost, Nightopia will disappear… And my Nightmare will rule over all!'
Wizeman was the first intelligent life in the Night Dimension and the creator of Nightmare.
He created Nightmarens by using his own power. His mysterious power scares Nightmarens. But NiGHTS refuses his order, so he confines NiGHTS in an Ideya palace.
(Official U.S JoD) Wizeman is an all-powerful being who seeks to rule the Night Dimension, but one thing stands in his way: Nightopia. After creating the dark world of Nightmare, Wizeman populated it with creatures derived from its own soul, known as Nightmarens. With the ability to create natural disasters and his wicked Nightmarens, Wizeman may just suceed in his quest to destroy Nightopia.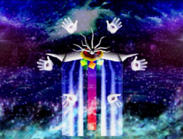 7 Responses to "Wizeman"