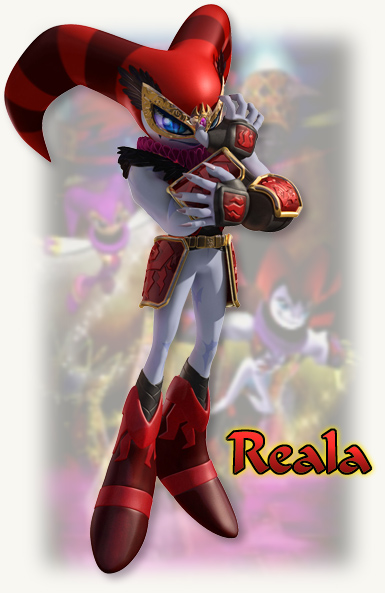 (Official U.S NiD) Reala is one of Wizeman's closest henchmen. Like NiGHTS, he is a tremendous flyer. However, he has a cruel and brutal personality and is NiGHTS' number one rival.
(Official JP NiD) One of two first level Maren that were created to be Wizemans right hand men. He has an absolute loyalty to Wizeman though he is a cruel and brutal character.
He has a flight ability almost equal to NiGHTS, and he can paraloop too.
Reala has many problems with NiGHTS because of their equal ability and opposing character. Therefore, they consider each other to be rivals. And, it was Reala's doing that NiGHTS was confined.
(Official U.S JoD) Reala is one of the First-Level Nightmarens created by Wizeman. Unlike NiGHTS — who is free, graceful and cheerful — Reala is obedient towards Wizeman the creator, as well as dirty, cruel and insidious. As a symbol of loyalty, Reala wears a Persona mask given to him by Wizeman. Reala acts as the leader of the whole Nightmaren force.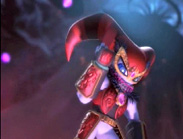 13 Responses to "Reala"