Hi guys, TRiPPY here.
Sorry you've not heard from us in a long time, life became incredibly busy after I went full-time artist mode. I've been working on awesome published comic books and getting things set up for the end of 2014 with my new Engelbaum Patreon campaign (Check it out if you ever enjoyed my dream/Gen related comic work!: http://www.patreon.com/trippy).
The years may come and go but I still love NiGHTS the same as ever. It's his 18th birthday today, wow can you believe that, 18 years… it honestly seems like just yesterday to me the first time I dreamed of him or played the actual game. So many great positive things have come of that day 18 years ago. And we're still all here!
Because of how busy my life is right now though I feel it's only right to hand the reins over to another admin so that everyone can enjoy the website again with updates and activity. I feel very guilty about not being able to work on this website since I worked so incredibly hard on it for many years. So rather than let it fade I'd like to give it a kick up the butt and get some stuff rolling again. Me and DiGi are going to take a back seat for now after we technically hit the heights of doing as much as we possibly could for NiGHTS and you guys. We lived the dream we built and now it's time for new dreams and new faces. It's been a lot of fun working with you guys over the years, causing trouble and getting NiGHTS back into the spotlight again. So much so that we don't even have to ask SEGA anymore. They know people care about NiGHTS now. Lots of us. And I knew that when I worked at SEGA myself, working on NiGHTS with DiGi, that all those coffeelicious 5am HTML blasts back in 1999 on a Dreamcast browser were worth it, lol. So thank you.
Lately it seems the NiGHTS community has migrated over to Tumblr, which is cool, but I still think this website is a great information point for new and old fans so it deserves to be preserved.
But It's with great happiness and pleasure that I tell you all today that from this point onwards (after all the server side stuff is sorted out for his accounts yadda yadda) that our new main admin of NiGHTSintoDreams.com is the wonderful Dex la Cabra. A long time NiGHTS fan and a good friend of ours with SO MUCH enthusiasm and care for what he does. He's friendly, sensible and just the right kind of guy this place needs to get things running again. So give him a warm welcome and prepare for cool things again

I myself have tons of content, emails and work that have built up over 2 years that myself need to submit to the site, so it's going to be Dex's job to give you guys the goodies, report on both SEGA and community news and keep an eye on everything in the ~ world of dreams.
If i could explain just how much this website has given me, both as a person, a fan, an ex employee and a dreamer I'd have to write a very long book. All I will say is that without this website and NiGHTS I wouldn't be where I am in life now, surrounded by great people, working my dream jobs and waking up every morning to see DiGi beside me. It's all been worth it. Every single thing.
So never let anyone tell you that dreams are worthless. NiGHTS is always there if you need him, no-matter who you are or how impossible things might seem.
Thank you to DiGi, to the fans, to my friends at SEGA Europe, Japan, America and China, Sonic Team, Naoto Ohshima and to our magical 18 year old purple guy.
Lynne Triplett & Niyazi Sonmez signing off ~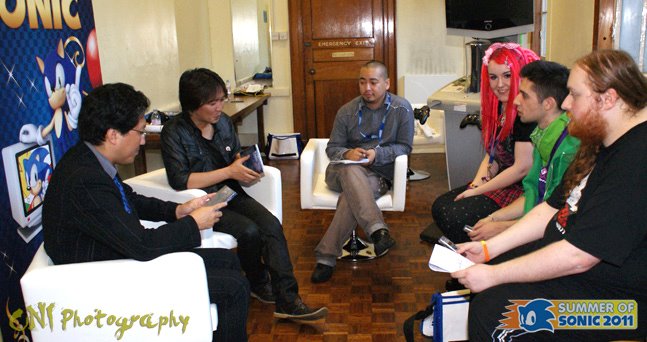 6 Responses to "A birthday announcement!"