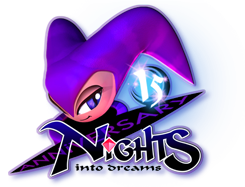 NiGHTS into Dreams .Com's first real attempt at getting the original Saturn game ported to Xbox Live and Playstation Network is now underway. Join us in showing your appreciation for the game and doing all you can to spread the word. Japanese gamers were treated to a NiGHTS into Dreams remake on the PS2 a few years back, so it's long overdue that us gamers elsewhere in the world get a chance to relive the nostalgia again whilst the new fans get to see what inspired Journey of Dreams.
Help us show how awesome NiGHTS into Dreams was (and still is!)
It's NiGHTS' 15th anniversary next year on the 5th of July – so add your vote for a fantastic game that deserves to be remembered.

17 Responses to "NiD15 Campaign!"