NiGHTS Community: November 2020
8 November; Author: Dex la Cabra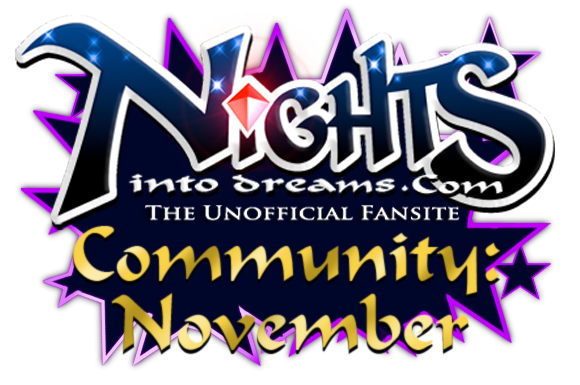 Another month gone, another NiGHTS Community Post! You love iiiiit~!
We have quite a few festive Halloween NiGHTS pictures to show this week! Let's get cracking!
7Marichan7


7Marichan7 shows us an incredible picture of Halloween NiGHTS, holding a Jack o' Lantern! Spooky!
NiGHTS into Zines


Aura Cannon shares the latest issue of NiGHTS into Zines! Packed with loads of activities, there's always something fun to do~!
CraziestRobo


CraziestRobo shares this awesome picture of an alternative costume for NiGHTS~!
Dex la Cabra




I couldn't draw anything Halloweeny this year, so I thought I'd share something different!
Here we have the only two pages for the next part of "NiGHTS into Webcomics" that I completed~!
D.P






D.P shares some excellent artwork of Halloween NiGHTS with both Balan
and the ghosts of what NiGHTS could have been; his concept designs!
Throw in an Italian NiGHTS and you have some lovely pictures~!
DreamCastingArt


DreamCastingArt shares with us a fantastic drawing of NiGHTS sporting his JoD outfit in a very acrobatic pose~!
Dreamie




Dreamie shares with us a pair of drawings of NiGHTS and his new counterpart Balan~!
DreamyImagination101


DreamyImagination101 shares this lovely picture of NiGHTS and Jackle for Jackle Day 2020~!
Picoffee


Picoffee shares with us this ambient picture of NiGHTS down in Pumpkin Hill, finding his lost piece~!
Toppy


Toppy shares with us this wonderful picture of Halloween NiGHTS with their OC~!
TRAGEDiCArt






TRAGEDiCArt shares with us some Halloween goodness and some fan art of UV NiGHTS!
The NiGHTS with a nose is from some unused American box art for NiD
which thankfully was replaced with one far more fitting how NiGHTS actually looked~!
WeatherWitch


WeatherWitch shares with us a brilliant picture of Halloween NiGHTS with some flying eyeballs~!
And there we have it! Some brilliant work from some talented people!
Christmas fast approaches so if you live in an acceptable location there is a NiGHTS Holiday Ornament available from the US Store~!
If only the UK one would sell the NiGHTS memorabilia as well :'(
Until next time~!