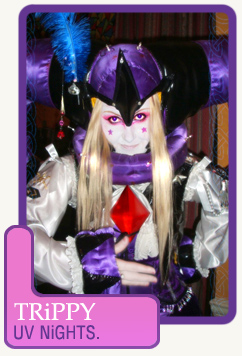 Discovering I have a penchant for making superglittery NiGHTS stuff, I started a big costume project back in December 2004. I have previous experience working in professional Theatre but i'd never really done any personal projects for fun.
In 2008 I was invited by SEGA to cosplay NiGHTS for them at the Guinness Book of World Records event. I had a lot of fun and even got my costume on BBC1 TV and into a number of gaming magazines.
I hope you enjoy my photos and find inspiration to create your own textile projects. Help me promote NiGHTS!
Awards
Auchinawa 2006 – Cosplay Masquerade – Most Elaborate Costume
Guinness World Records – NiGHTS – Most gaming characters in one place

SEGA & Guinness World Records event- March 18th 2008- London:

[ BACK TO MAiN ]

One Response to "Cosplay > UV NiGHTS by TRiPPY"