There's a mall a couple of hours away from where I live. It's a big mall that we go to when we need something we're not likely to find in our rural area. This mall has a Gameworks arcade; as much as I love video games, I've never been all that interested in arcades, so I have only been in there a couple of times when some friends wanted to go. I haven't been in the arcade since I found out about NiGHTS (in fact, I haven't been in there in years). But yesterday, while I was at this mall with some friends of mine, they suggested we go spend some time at the arcade.
There was a great big mural on the wall to the left of the entrance, next to some stairs. I didn't actually notice it until one of my friends pointed it out to me, and it so happens that NiGHTS is on it! I wish I had a camera with me, but I didn't, so I took some pictures of NiGHTS (and
with
him... I just couldn't resist =P) with my cell phone. It's bad enough that they're cell phone pictures, but they're even lower quality because of the dim lighting in the arcade. Oh well... it was the best I could do at the time. Maybe I'll go back another time with a real camera and get a shot of the entire mural so you guys can see it. I tried to get a full shot with my cell phone but it didn't work. =/
Anyway, I just had to share this awesome NiGHTS sighting!
The painting is actually a bit bigger than it looks in the pictures; I'm much closer to the camera than NiGHTS, which makes him look a lot smaller than he actually was (I'm not actually touching the wall-- none of us could reach that far, unfortunately; I think there's still a good two feet or so between my hand and his).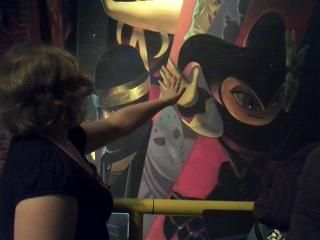 EDIT-- I found a picture taken by a user named CodyMau on DeviantArt that shows more of the mural if you'd like to have a look:
http://codymau.devia...Mural-100241992