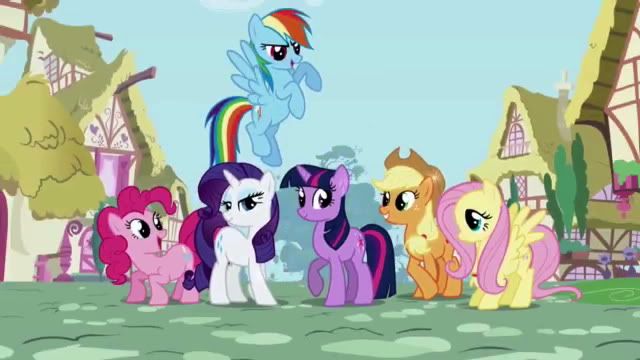 You had to know this thread was going to happen sooner or later. But of all people to start it? Bet ya didn't see that one coming.
Spearheaded by Lauren Faust of Powerpuff Girls fame, My Little Pony: Friendship is Magic (MLP:FIM or just simply MLP) is the fourth generation of My Little Pony cartoon shows. Could it be nothing more than 22 minute product advertisements? Maybe if this were still the 90's. This is a genuinely fantastic show that clearly shows all the love and tolerance that has been put into creating such a phenomenal franchise reboot. I don't even know where to begin...
Compared to previous MLP generations, each episode has an excellent plot that highlights each of the main cast's diverse personality traits and interaction with the other ponies. The dialogue is well-written for adults and children alike, with simply sublime voice acting. The anime flair that infused the show's artistic style is subtle and effective, with very smooth animation. There's a lesson to be learned at the end of each episode, of course, but unlike most (or possibly all) other children's shows airing right now, the audience is treated as if they have intellect and are actually, you know, watching the show, rather than throwing violent slapstick comedy into the mix every 30 seconds or immature innuendos to try and keep an older audience awake.
Curiosity killed the cat, they say, and I went ahead after meme saturation and goofy videos to watch the first episode. This was five days ago. Since then, I've watched the entire first season twice. First from [insert mass file sharing protocol here] and second from iTunes at full retail price. Now, I even frequent MLP related messageboards, IRC, and newsfeeds. I've gone full brony and dove headfirst into the fandom. I can't even explain what hooked me. It's magic.
/awfulpun
This show deserves your attention. Don't be off-put by the "It's for little girls" argument that half the web seems to use. I'm in my 20s and I thoroughly enjoy this show. Load up the videos below and decide for yourself.
http://www.youtube.com/watch?v=f-HTcaC4KwM
And if you plunge farther into the series like I did? Welcome to the herd.