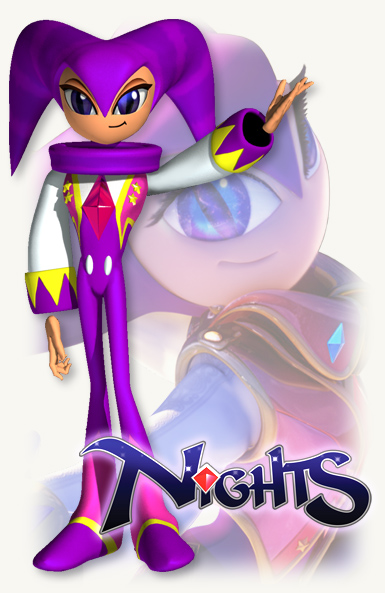 (Official U.S NiD) In their dreams Elliot and Claris have seen NiGHTS, a being capable of flying freely through the sky and performing the trickiest of aerial acrobatics. But what is NiGHTS? A spirit? A memory? Whatever he, she or it is, NiGHTS plays an important part in the upcoming battle with the evil Wizeman.
(Official JP NiD) Nightmaren of the first level created as Wizeman's right-hand man. Having the craziness of the original Nightmaren, the free wild character of this individual suffers much misfortune. Wizeman's spell is cast, confining the creature to the space of a dream. NiGHTS excels in flight ability compared to the other Marens. NiGHTS can fly as freely through the air as a fish swims the sea. If NiGHTS flies in a circle a hole can be made in the air, creating a deadly paraloop. Furthermore, since it's body can also be changed at will with shapeshifting, there's no place NiGHTS cannot venture to such as underwater or ice. Will the day come when NiGHTS will be released from Wizeman's spell and be free to fly the skies again?
(Official U.S JoD) NiGHTS enjoys flying freely through the beautiful skies of Nightopia. Full of curiosity, NiGHTS loves anything new or unusual. When Wizeman, the evil ruler of Nightmare, attempts to take over Nightopia, NiGHTS is compelled to help Will and Helen fight back and restore peace to the land.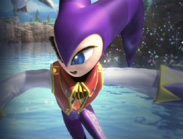 28 Responses to "NiGHTS"